I have always been a big fan of Revital's health shops and exciting online store with its plethora of holistic goodies, and so I was brimming with excitement after being invited to a press event to celebrate their 21st birthday and introduce their new line of products.
So with my lovely nutritionist buddy Mel in tow, along we went to the glorious Blue Fin building in London Bridge, ready to be educated on all things healthy and nutritious.
When we arrived, we were greeted by the inviting scent of a vegan 'anti-inflammatory' curry, smouldering away on a nearby stove.
mmm spicy healing noms
Beckoned over by such a delightfully aromatic waft, we discovered that it was the creation of celebrity 'Medicinal Chef' Dale Pinnock, who's speciality is devising dishes that heal various ailments and prevent diseases.
Dale explained to us how a powerhouse of healing spices such as ginger, cumin and turmeric are added to his curry to create an anti-inflammatory effect in the body and boost circulation.
Mel and I are great believers in using food as medicine and saying no to heavily prescribed, unnecessary drugs so we were rather enthralled by Dale's holistic foodie teachings.
The curry tasted darn good too. Have kept that recipe filed away for my next dinner party. Oh yeeeah.
You can find many of Dale's recipes on his website,
here
, which also lists his next TV appearances and details of his latest medicinal cookbooks.
After tearing ourselves away from such culinary excitement, we moved around the room to discover all of Revital's new health supplements, diet aids and organic skincare.
I was particularly jubilant at the healthy pots of nutritious goodness by The Food Doctor - one of my favourite brands of health noms.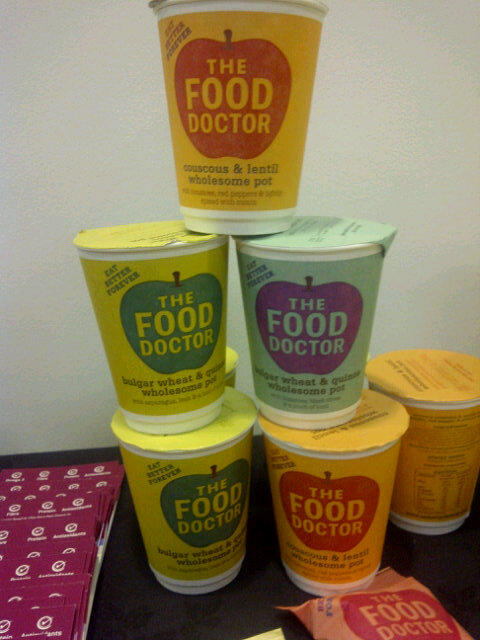 ooooh elo der!
Deceptively styled as dodgy pot noodles, these hearty pots o' snack time happiness contain body-loving ingredients such as quinoa and bulgar wheat......rather than artificial onion flavouring and MSG.
Other products that I thought were rather splendid included the range of Pukka organic skincare (especially the firming facial oil containing skin-plumping rosehip seed) and the new Dr Berry Blueberry Punch, which is rather like an innocent Ribena - free from evil refined sugar and colourings and full of health-promoting goodness.
I was impressed to discover from the helpful Revital advisor that this refreshing, all-natural berry beverage was actually a potent cocktail of antioxidants and phytonutrients which improve cardiovascular health and fight free radical damage, thus revitalising your skin.
We left with a goody bag brimming with health-promoting, natural goodies, oodles of Dale's recipes .....and the sudden urge to detox and do smugly wholesome things like sprinkle chia or flaxseeds over everything we consumed.